Just a few more days left in October for the chance to win Stephanie O'Dea's new crockpot cookbook: Make if Fast, Cook it Slow! Go here for more details. You can enter by leaving a comment an any post this week or by joining as a follower here at "Come Have a Peace."

There are lots of other chances to win fun giveaway items over at "Joyfully Living for His Glory" in the Bloggy Giveaway Carnival. Great timing ... something fun on a rainy October day. :)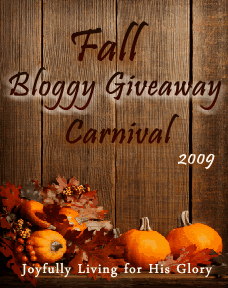 So,
leave a comment on one of my posts this week, or start following right here,
and you'll be entered for my great giveaway of this excellent crockpot recipe book ... just in time for cold nights! If you've already entered, then never fear ... your name is in the running! :)
Only open to US residents in the lower 48.