In taking time to think about how Life OFF Line merges with Life ON Line, I'm convinced of this: Virtual is valuable, but off line is not obsolete.

Do you think Life ON Line has changed your friendships? For the better? For the worse? The impact on our relationships sort of gradually crept up on us, but there's no doubt that our friendships are being influenced.
Three years ago, when I started blogging on Come Have a Peace, (CAN. NOT. BELIEVE. IT's. BEEN. 3. YEARS!!!) I never expected some of the friendship blessings I would encounter online. In fact, I was pretty skeptical about "real relationships" happening in virtual places. Today I want to share about 2 new things for this new year that have blossomed due to online friendships God has gifted me with.
DO NOT DEPART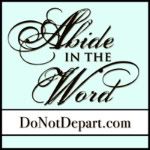 You know I love writing with the
Scripture Dig team
, but God is doing a new and exciting thing with our team. We are MERGING with another group of Bible loving blogger gals at
Do Not Depart
. You can read about how God tied our teams together at
Scripture Dig
and at
Do Not Depart
. I'm anticipating sweet relationships and fruit from our partnership at
Do Not Depart
.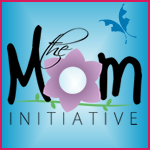 MOM Initiative
In blogging with the Dig team, I developed a friendship with
Stephanie Shott
. I loved having Stephanie as a partner at our "real" Women's Retreat last spring. We share a heart for influencing mothers and other cultures with the truth of God's Word. Stephanie is launching a ministry called the
MOM Initiative
, and I'm excited to be writing as a "mentor mom" with my friend Stephanie. She believes that ...
IF THE HAND THAT ROCKS THE CRADLE RULES THE WORLD –
THEN THE CHURCH THAT MENTORS THOSE HANDS WILL WIN IT!

The M.O.M. Initiative
is an acrostic for
M
others
o
n a
M
ission to
M
entor
O
ther
M
others. It exists as a group of moms and a package of resources to equip, enable and support women as they experience Titus 2 in real life.
I invite you, my online friends, to check out these 2 new sites where I'll be writing, and be sure to "like" their facebook pages and follow on Twitter. Have you "liked" and followed
Come Have a Peace
?
Satan is a spoiler who loves to ruin seeds that would bear fruit, but God is able to take the potential of the on line world and use it for good.
I love the God-loving friends I've made along my blogging journey. They encourage, teach, inspire, and bless me.
Tomorrow we'll continue our Life Off Line Challenge as we talk about friendship. How is the On Line world influencing your relationships?